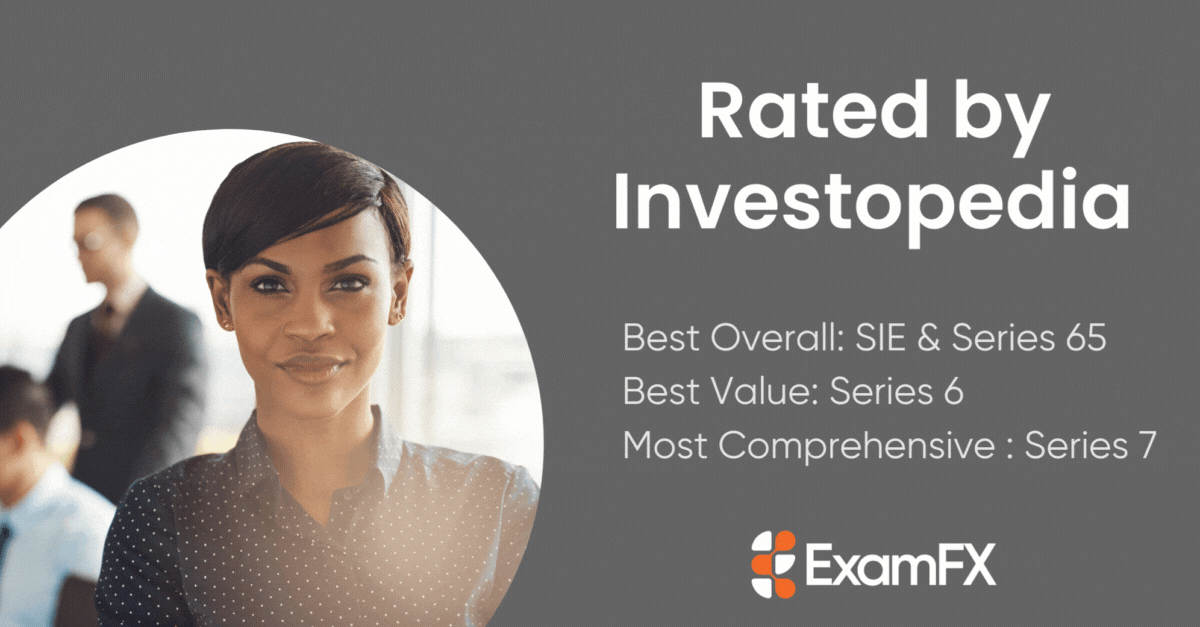 We're thrilled to announce that Investopedia, the world's leading source of financial content on the web, has selected ExamFX in six of its 2023 "Best Of" Exam Prep Course lists. ExamFX was named "Best Overall" in three of the six categories: Series 63 Exam Prep, Series 65 Exam Prep, and SIE Exam Prep.
Investopedia independently evaluates exam prep courses. Depending on the exam, they look at factors including cost, pass rates, availability of support, ease of use, and depth and breadth of practice exams. Based on these and other considerations, Investopedia recognized ExamFX in the following categories for 2023:
"The combination of a feature-rich study package for every need and budget, leading-edge technology, and a money-back guarantee makes ExamFX our choice as the best overall Series 65 exam prep provider," states the Investopedia "Best Series 65 Exam Prep Courses" resource.
Investopedia is a trusted source of financial content. Their independent evaluations guide individuals toward the best exam prep courses, making this recognition significant.
We have a long, established history of helping people realize their professional goals through comprehensive training and innovative tools delivered by industry experts. We know that not all prelicensing training programs are created equal, and are dedicated to helping you pass on the first try. In fact, we guarantee it.
Here's what some people like you have said after using ExamFX to prepare for their licensing exams:
"The study prep for the test was excellent. It allowed me to pass the test the first time! Great resource! - Michael
"The study material was spot on. When taking the state exam, I was not surprised by any questions asked. I found the practice exams especially helpful during final preparations. The software led me to the specific material to study for questions I answered incorrectly. That was a real timesaver. I'm happy I chose to use ExamFX." - Stephen
"This course helped me obtain my state license on my first attempt, without knowing a thing about insurance beforehand and it only took two weeks! I would highly recommend!" - J. Greer
We love getting feedback like this, and our recent recognition from Investopedia validates our commitment to you and your professional aspirations. Thank you for your support and loyalty, and for making ExamFX the trusted name in professional online learning and certification!
Learn more about the ExamFX exam prep courses recognized by Investopedia: